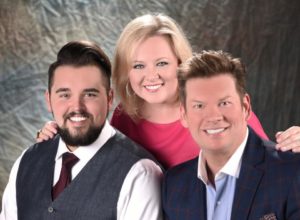 We have had the Jim Brady Trio with us in Listowel for the past 2 years and their ministry has surpassed all expectations! In that time, they have undergone personnel changes but their newest member's voice has blended in such harmony, everyone hearing them has sensed the presence of God in the auditorium.
Jim and Melissa Brady are living proof that God's ways are higher than ours, and that He is always working for our good and His glory.  "God has brought so many opportunities our way as a result of Jim's time with The Booth Brothers," Melissa states. "Had Jim chosen to sing with Ronnie and Michael for the rest of his life, I would have supported him 100 percent, but God had other plans."  Obviously, those plans include lots of great music and a great future with The Jim Brady Trio!
Last year, folks left their names in order to reserve their seats for this year's performance. Tickets will be mailed out in the next few weeks. Make your plans to attend now and order your tickets.
April 28, 2018
Seating is reserved so get your tickets today!!  Order online through PayPal link or call Donna at 519-291-9296 or 519-291-1280.
Tickets $30.00
**Group rates available for orders of 10 or more tickets**